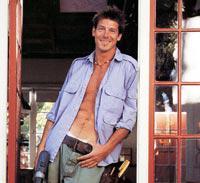 This is what #1 yells every Sunday at about 7:00 PM CST. That is the call to let us know that it is time to watch her absolute favorite show... Extreme Makeover Home Edition. #1 discovered this show not long after it's debut about a year and a half ago give or take. We started watching it together as a family as it is one of the few shows on that: 1. Had appropriate content for all ages in our household to watch. 2. It did not drive us crazy to watch it.
If my beloved and I are honest the bloom is off the rose for us as far as Extreme Makeover Home Edition goes. The cheese is getting to be a bit much. (That new theme song goes on mute with the first note 'round here) Ty trying to get in touch with the family's feelings makes me cringe. It reminds me of a surfer boy trying to do therapy, "Dude.. so it like must have really made you feel sad when your dad died in that fiery car wreck...bummer." The little "ha-ha aren't we cute?" romp through Sears is wearing thin, as is the blatant product endorsement. This season the best solution for the midnight snack attack at the construction site is a burger from Wendy's! Hell they truck 'em in on a great big mobile Wendy's catering unit.
Of course they always say how this family is the nicest family they have ever met and the most deserving. In response to this my beloved and I want to pitch an idea. Extreme Makeover Home Edition: The asshole family episode. Just to shake things up a little.
Despite our complaints we continue to watch with the children each week. It is fun to see their reactions to what is happening, and we get to have fun joking with and teasing #1 about her crush on Ty Pennington. In case you were not aware he is her boyfriend and she plans to marry him. She has yet to inform him about this.
So earlier this week I found out that "Extremey" was in Kansas, just outside of Wichita. Now last season they did a house in KC, MO but I didn't hear about it until too late. My Beloved and I talked it over and decided to take the girls on a little road trip to see what we could see. At 9:30 AM we were off to Rose Hill, Kansas.
We all had pretty low expectations about how much design team action we would get to witness. So we weren't disappointed. We had sightings of 5 design team members, got to see some filming and construction. We had a great view of the house, there were not too many spectators today. The big reveal is tomorrow so I guess people were waiting for that. Not us. It would be cool, but WAY too many people to deal with. We got to see #1's boyfriend drive by in a truck. So all in all everyone was pleased with what they got to see and felt that it was worth the drive. The girls even got t-shirts.
So in honor of my trek to see the latest EMHE home this week's hottie is Ty Pennington. I agree that he can be very annoying on the show, but the bottom line is that he is mighty easy on the eyes so I forgive a little obnoxious behavior.
But if he ever yelled in my face with that damn bullhorn, I promise he would find it shoved right up his tight and fine ass.
P.S. Here is my Beloved's current favorite way to tease #1 about Ty. He has said that he is going to get a pig for a pet and name it Sty Piggington. Drives her nuts, because that is now how he refers to Ty at all times.